Precision Overhead Garage Door Service of Miami
Miami-Dade Approved Hurricane Garage Doors
OUR AVERAGE RATING





WITH 479 REVIEWS





WITH 479 REVIEWS
CLICK
To view local phone numbers
305-423-3650
305-423-3650
---
Miami Area





Brickell

Bunche Park

Gladeview

Golden Glades

Medley

Miami Springs

Norland

North Miami

Ojus

Pinewood

Richmond Heights

South Miami

Virginia Gardens

West Little River

Westchester

Westview

Westwood Lakes
305-704-3025
305-704-3025
---
Coral Gables Area





Coconut Grove

Virginia Key
305-423-3650
305-423-3650
---
Miami Beach Area





Bal Harbour

Bay Harbor Islands

Indian Creek

Sunny Isles Beach

Surfside
305-508-4210
305-508-4210
---
Hialeah Area





305-704-3025
305-704-3025
---
Homestead Area





786-224-6477
786-224-6477
---
The Keys Area





Bahia Honda Key

Big Coppitt Key

Conch Key

Cudjoe Key

Duck Key

East Rockland Key

Grassy Key

Key Colony Beach

Layton

Little Torch Key

Long Key

Lower Sugarloaf Key

Marathon Shores

Middle Torch Key

No Name Key

North Key Largo

Ramrod Key

Stock Island

Sugarloaf

Sugarloaf Key

Sugarloaf Shores

Summerland Key

Upper Sugarloaf Key

Vaca Key
Every garage door that Precision Door Service of Miami installs is hurricane and wind-code approved, keeping you and your family safe during severe storms or hurricanes. Don't wait for an approaching storm to consider the risks.
During a storm, your home is vulnerable and at risk to both the rain and water levels, but also the wind pressure and wind borne debris. If your garage door does not meet Wind Code Restrictions, the wind pressures can cause catastrophic damage to your home. Precision Garage Door only installs garage doors that meet all Florida state codes & requirements.
Dangers of a Standard Door
Standard doors can be forced out of the track from the wind pressure during a storm
Wind-borne debris can become dangerous as they can impact standard doors and enter homes
Intense pressure from wind speeds 111 mph (Category 3 or higher) inside the home can severely damage the structures of the home such as the walls and roof.
Induced internal air pressure can get so intense that it can blow out the roof or wall panels as it increases.
Window openings as small as 4 sq. ft. can cause pressure in the home's interior and exert forces on the structure.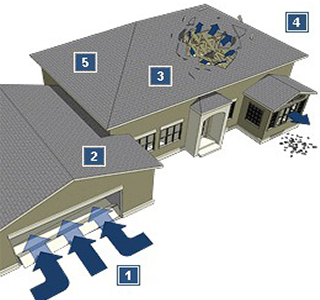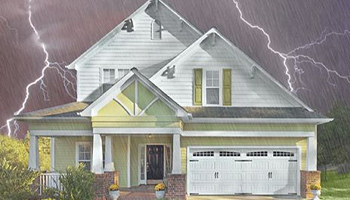 Precision makes it easy to get your hurricane-rated door!
Free In-Home Estimates
Hurricane Impact Rated To Miami-Dade Code
We Pull All Permits
We Quickly Install Your New Hurricane Approved Door
We Arrange Necessary County Inspections
Choose a door that's stylish & safe!
Wind loaded garage doors have the same stylish appearance as standard doors, but are engineered to withstand the wind forces that come with severe storms and hurricanes, ensuring your home looks good and is kept safe. Many styles and designs are available with windows while also keeping your door Hurricane Wind Code Approved.
Additional Benefits
Did you know upgrading your garage door to a hurricane rated door can lower the cost of your insurance. AND a Miami-Dade Approved Hurricane Door (to the latest restrictions) will improve your home's resale value.
Miami-Dade Wind Load Doors Tested For Impact Resistance
Precision Overhead Garage Door Service of Miami
Office:

(305) 537-1670
14280 SW 142nd Street
Suite 208
Miami
,
FL
33186
Precision Overhead Garage Door Service of Miami
Office:

305-423-1562
326 SW 17th Avenue
Unit #2
Miami
,
FL
33135
Licenses
Construction - Miami-Dade County
22BS00219
Construction - Monroe County
CRC1332218